My Blog
Posts for tag: dental care
By Brooks Cosmetic & Family Dentistry
May 02, 2021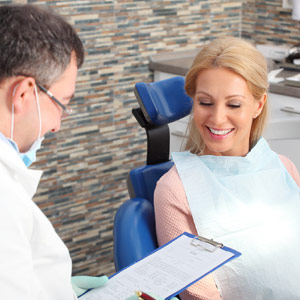 In an ideal world, your family's dental needs would mesh seamlessly with the family budget. Alas, it's not always that way, and it can often be a head scratcher figuring out how to pay for needed dental work.
You can reduce treatment costs with dental insurance, which could conceivably cut your bill in half. But dental policies often have payment caps and coverage limitations on materials and procedures. And unless someone else like an employer is paying for it, you'll have to subtract the premiums you're paying from any benefits you receive to reveal what you're actually saving.
Even with dental insurance, you can still have a remaining balance that exceeds what you can pay outright. You may be able to work out a payment plan with the dentist for extended treatments like braces, but this might not be possible in other cases.
That leaves financing what you owe with loans or credit cards. For the latter, it's highly likely your dentist accepts major credit cards. But since many cards charge high interest rates, you could pay a hefty premium on top of your treatment charges the more you extend your payments on a revolving account over time.
Your dentist may also participate with a healthcare credit card. Although similar to a regular credit card, it only pays for healthcare costs like dental fees. Interest rates may also be high like regular cards, but some healthcare cards offer promotional periods for paying a balance over a designated time for little to no interest. But late payments and overextending the promotional period could nullify this discount.
You might save more on interest with a loan that has a fixed interest rate and payment schedule rather than a credit card with revolving interest (although credit cards may be more suitable for smaller expenditures while a fixed loan works better for larger one-time charges). One in particular is a healthcare installment loan program, one of which your dentist might be able to recommend, which is often ideal for paying dental costs.
Paying for your family's needed dental care can be financially difficult. But you do have options—and your dentist may be able to assist you in making the right choice.
If you would like more information on managing your dental care costs, please contact us or schedule an appointment for a consultation.
By Brooks Cosmetic & Family Dentistry
November 08, 2020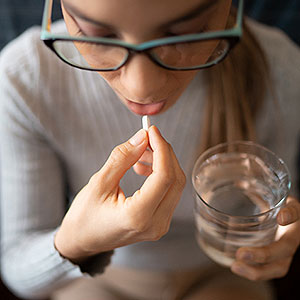 Undergoing dental work is for the most part a pain-free affair. But once you're home and the anesthetic begins to wear off, you may have some discomfort.
Fortunately, most post-procedure pain can be managed with non-steroidal anti-inflammatory drugs or NSAIDs. And while stronger versions of these pain relievers can be prescribed, you may only need one sold over-the-counter.
NSAIDs like ibuprofen or acetaminophen work by inhibiting the release of prostaglandins, substances that stimulate inflammation in traumatized or injured tissues. It differs in this way from the two other primary pain medications: Steroids act like natural hormones that alleviate physical stress in the tissues; and narcotics like morphine or codeine suppress the brain's reaction to nerve firings.
While these stronger types are effective for stopping pain, they can have several serious side effects. Narcotics in particular can be addictive. Although they may be necessary in serious cases of acute pain, most dentists turn to non-addictive NSAIDs first, which are usually effective with the kind of discomfort associated with dental work and with fewer side effects.
That's not to say, however, that NSAIDs are risk-free—they must be taken properly or you could suffer serious health consequences. For one, NSAIDs have a blood-thinning effect that's even more pronounced when taken consistently over a period of weeks. This can lead to bleeding that is difficult to stop and erosion of the stomach lining leading to ulcers. Prolonged use can also damage the kidneys.
As a rule of thumb, adults shouldn't take more than 2400 milligrams of ibuprofen or other NSAIDs in a day, unless otherwise directed by their doctor. For most, a 400-milligram oral dose taken with food (to minimize stomach upset) is usually sufficient to relieve pain for around five hours.
You'll usually avoid unwanted health effects by keeping within your dentist's recommended doses and taking an NSAID for only a few days. Taking an NSAID properly can help keep your discomfort to a minimum after dental work without the need for stronger drugs.
If you would like more information on managing dental pain, please contact us or schedule an appointment for a consultation. You can also learn more about this topic by reading the Dear Doctor magazine article "Treating Pain With Ibuprofen."
By Brooks Cosmetic & Family Dentistry
October 19, 2020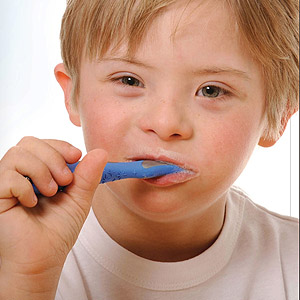 Even the simplest, everyday things can be challenging for a child with special needs. Dental care is no exception.
If you have a child with a chronic condition that affects their physical, intellectual or behavioral abilities, you know how difficult keeping up with dental care practices can be. Here are 4 tips to help make dental care easier and ensure your child has healthy teeth and gums.
Take an active role in hygiene. Depending on their abilities, you may need to take a more active role in daily teeth cleaning. If you have to brush their teeth for them, it's usually easier to have them face you "knee-to-knee." You can also use a second brush to keep their mouth propped open if they tend to bite or clench down while brushing.
Model behavior. If your child could eventually brush for themselves, it may still be a long training road. It can be an easier task if you make a habit of brushing your teeth together, or have them brush with a sibling. Not only does this allow you to monitor their progress, their learning process may be easier watching another person brush and then mimicking their actions.
Find the right dentist. Many children with special needs are subject to anxiety surrounding healthcare visits, including going to the dentist. Choosing the right dentist, skilled in the technical aspects of treatment for a special needs child and providing a "kid-friendly" environment, can make all the difference in the world. A pediatric dentist is often a good fit for children with chronic conditions.
Coordinate medical and dental care. A special needs child could have underlying health problems that complicate dental care, so keep your dentist well-informed about their overall health. Do likewise with their medical providers, particularly if their condition or treatments impact dental health, as in the case of medications they're taking that could inhibit saliva flow.
Ongoing dental care for a child with a chronic health condition can be difficult. But keeping their teeth and gums healthy is an important part of fostering greater overall health.
If you would like more information on dental care for special needs children, please contact us or schedule an appointment for a consultation. You can also learn more about this topic by reading the Dear Doctor magazine article "Managing Tooth Decay in Children With Chronic Diseases."