My Blog
Posts for tag: dentures
By Brooks Cosmetic & Family Dentistry
April 08, 2019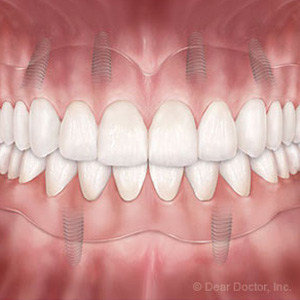 Even with modern prevention and treatment advances, losing teeth in later life is still a sad but common part of human experience. Just as generations have before, many today rely on dentures to regain their lost dental function and smile.
But although effective, dentures have their weaknesses. The most serious: they can't prevent jawbone deterioration, a common problem associated with tooth loss.
Bone health depends on chewing forces applied to the teeth to stimulate replacement growth for older bone cells. When teeth are gone, so is this stimulation. Dentures can't replicate the stimulus and may even accelerate bone loss because they can irritate the bone under the gums as they rest upon them for support.
But there's a recent advance in denture technology that may help slow or even stop potential bone loss. The advance incorporates implants with dentures to create two hybrid alternatives that may be more secure and healthier for the supporting bone.
The first is known as an overdenture, a removable appliance similar to a traditional denture. But instead of deriving its support from the gums alone, the overdenture attaches to three to four implants (or only two, if on the lower jaw) that have been permanently set into the jawbone. This not only increases stability, but the implants made of bone-friendly titanium attract and foster increased bone growth around them. This can help slow or even stop the cycle of bone loss with missing teeth.
The second type is a fixed denture. In this version, four to six implants are implanted around the jaw arch. The denture is then secured in place to these implants with screws. It's a little more secure than the overdenture, but it's also more expensive and requires good quality bone at the implant sites.
If you've already experienced significant bone loss you may first need bone grafting to build up the implant sites for these options, or choose traditional dentures instead. But if you're a good candidate for an implant-supported denture, you may find it provides better support and less risk of continuing bone loss than traditional dentures.
If you would like more information on implant-supported dental restorations, please contact us or schedule an appointment for a consultation. You can also learn more about this topic by reading the Dear Doctor magazine article "Overdentures & Fixed Dentures."
By Brooks Cosmetic & Family Dentistry
July 07, 2017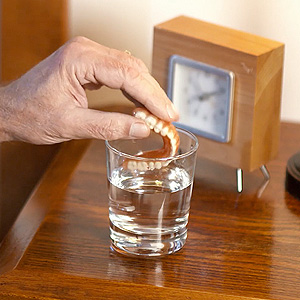 Dentures can be an effective and affordable solution for people who've lost all their teeth. With them a person can once again eat nutritiously, speak clearly and smile confidently — and with regular care they can last for years.
As part of that ongoing care, be sure you consider one important thing with your dentures: you may want to take them out at night while you sleep. If you do you'll lessen your chances of developing these 4 health problems.
Accelerated bone loss. Traditional dentures are fitted to rest securely on the gums. This, however, creates pressure on the gums and the bony ridges beneath them that can contribute to bone loss. Wearing dentures around the clock usually accelerates this process, which could eventually lead to among other problems looser denture fit and discomfort.
Bacterial and fungal growth. Microorganisms that cause oral diseases find conducive breeding spots on the underside of dentures while they're worn in the mouth. Studies have found that people who continuously wear their dentures are more likely to have bacterial plaque and oral yeast than those that don't.
Potentially dangerous infections. Bacterial and fungal growth increases your risk of oral infections that could affect more than your mouth. A recent study of elderly nursing home residents found those who wore their dentures during sleep were over twice as likely to develop serious cases of pneumonia requiring hospitalization. It's believed bacteria harbored on the dentures can pass from the mouth to the lungs as a person breathes over them while they sleep.
Blocked salivary flow. During the night our salivary flow naturally ebbs; wearing dentures while we sleep could cause denture stomatitis, in which the tissues covered by a denture (particularly along the roof of the mouth) become inflamed and infected with yeast. It's often accompanied by angular cheilitis or cracking at the corners of the mouth that becomes infected by the same yeast.
Wearing your dentures while you sleep contributes to conditions ranging from irritating to life-threatening. To prevent such problems clean your dentures as well as the rest of your mouth regularly — and talk to your dentist whether you should leave them out when you go to bed.
If you would like more information on denture care, please contact us or schedule an appointment for a consultation. You can also learn more about this topic by reading the Dear Doctor magazine article "Sleeping in Dentures."
By Brooks Cosmetic & Family Dentistry
September 01, 2016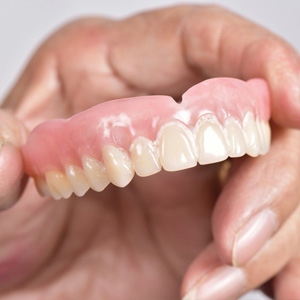 After a long struggle with dental disease, you have finally lost the last of your remaining teeth.  Like over a quarter of Americans in their 60s and 70s, this unfortunate development can have a profound impact on your health and self-image.
While there are a number of advanced methods for replacing lost teeth, there's one tried and true option that's centuries old — the removable denture. It's the option millions of people have chosen to lessen the impact of missing teeth.
Fashioned properly, removable dentures restore the form and function you once had with your natural teeth. The prosthetic (false) teeth are precisely placed in an acrylic, gum-colored base that closely follows the contours of your gums. Because they're removable, they're fairly easy to clean and maintain.
They do have a disadvantage, though, and it's related to bone health after tooth loss. Like other living tissues, bone has a life cycle: as older cells die, new cells form to take their place. The forces your teeth generate when you chew stimulate new bone growth. But without teeth to provide this stimulation, new bone won't keep up the pace of replacement at a healthy rate. As a result you may gradually lose bone, as much as a quarter of its normal width within a year of losing a tooth.
Dentures don't transmit any stimulation to the gum and bone from chewing. Furthermore, the compressive forces transmitted to the gum and underlying bone tissue contributes to bone loss. As the bone continues to diminish, your denture fit becomes looser to the point you will eventually need them relined with new acrylic material or have a new set made.
There is another alternative when patients loose all of their teeth: an implant-supported removable denture. Dental implants can be used to keep the dentures more secure and can also slow or even halt bone loss where the implants are placed. In this case we strategically place a few implants to serve as supports for a removable denture. The denture has connection points that join up with the implants to hold it more securely in place. As few as two implants are needed in the lower jaw, while the upper jaw does better with three or four implants.
Losing all your teeth can be traumatic, but there are effective ways to overcome it. With new technology, the traditional restoration of removable dentures may be the vehicle for achieving that.
If you would like more information on restoring missing teeth with dentures, please contact us or schedule an appointment for a consultation. You can also learn more about this topic by reading the Dear Doctor magazine article "Removable Full Dentures."