My Blog
Posts for tag: nutrition
By Brooks Cosmetic & Family Dentistry
January 03, 2020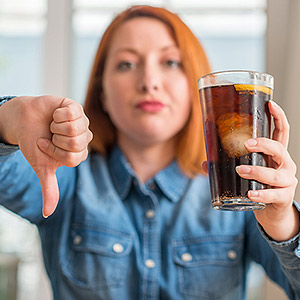 You can find some version of the ever popular kids' meal at most major fast-food restaurants. It's a neat little package: child's size portions of burgers, chicken nuggets or sides—and often a small toy or treat to boot—all tucked into its own colorful cardboard container.
The drive-thru menu board at your favorite fast-food joint gives you plenty of choices to fill out your child's meal. But you may notice something missing on many major chains' kids' menus—the mention of soft drinks as a beverage choice. You can still get one for your child's meal, but the visual cue is no more on the menu board.
None of the "Big Three"—Burger King, McDonald's or Wendy's—post soft drinks as a menu item for their kid's meals. It's the result of an effort by health advocates promoting less soda consumption by children, the leading source of calories in the average child's diet. With its high sugar content, it's believed to be a major factor in the steep rise in child obesity over the last few years.
Sodas and similar beverages are also prime suspects in the prevalence of tooth decay among children. Besides sugar, these beverages are also high in acid, which can erode tooth enamel. These two ingredients combined in soda can drastically increase your child's risk of tooth decay if they have a regular soda habit.
You can minimize this threat to their dental health by reducing their soda consumption. It's important not to create a habit of automatically including sodas with every meal, especially when dining out. Instead, choose other beverages: Water by far is the best choice, followed by regular milk. Chocolate milk and juice are high in sugar, but they're still a healthier choice than sodas due to their nutrient content.
Keeping sodas to a minimum could help benefit your child later in life by reducing their risk for heart disease, diabetes and other major health problems. It will also help them avoid tooth decay and the problems that that could cause for their current and future dental health.
If you would like more information on these and other effective practices for protecting your child against tooth decay, please contact us or schedule an appointment for a consultation.
By Brooks Cosmetic & Family Dentistry
October 28, 2017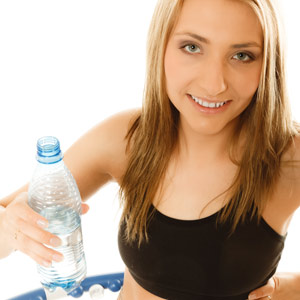 Your teeth's hard, enamel coating protects them from environmental dangers or disease. But although it's made of the hardest substance in the human body, enamel isn't invincible — prolonged exposure to acid can cause dental erosion, a condition in which the enamel's mineral content permanently dissolves, a process known as de-mineralization.
De-mineralization occurs anytime our mouth environment becomes too acidic due to eating or drinking items with high acid content. Saliva normally neutralizes mouth acid in thirty minutes to an hour after we eat, as well as restores mineral content to the enamel (re-mineralization). Danger arises, though, if the saliva's buffering action is overwhelmed by chronic acidity, caused mainly by constant snacking or sipping on acidic foods and beverages throughout the day — in this situation, saliva can't complete the process of buffering and re-mineralization.
As a result, the enamel may permanently lose its mineral content and strength over time. This permanent dental erosion leads to serious consequences: the teeth become more susceptible to decay; the dentin becomes exposed, which causes pain and sensitivity to pressure and temperature changes; and changes in the teeth's size and color can negatively alter your appearance.
It's important to take action then before dental erosion occurs. Along with daily oral hygiene, restrict your consumption of acidic foods and beverages to meal times and cut back on between-meal snacks. Rather than a sports drink after exercising, drink nature's hydrator — water. You should also alter your brushing habits slightly — rather than brush right after you eat, wait thirty minutes to an hour. This gives saliva time to restore the mouth to its normal pH and re-mineralize the enamel. Brushing right after can remove even more of the minerals in softened enamel.
If significant erosion has occurred, there are a number of treatment options we can undertake to preserve remaining tooth structure and enhance your appearance. In moderate cases, we can reshape and cover damaged teeth using dental materials like composite resins or porcelain to fill decayed areas or cover teeth with veneers or crowns.
The key of course, is to identify dental erosion through clinical examination as soon as possible to minimize damage. Your enamel plays a critical role in protecting your teeth from disease — so take the right steps to protect your enamel.
If you would like more information on protecting your enamel, please contact us or schedule an appointment for a consultation. You can also learn more about this topic by reading the Dear Doctor magazine article "Dental Erosion."
By Brooks Cosmetic & Family Dentistry
August 29, 2017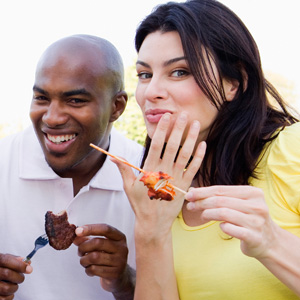 It's time to fire up the grill. So how about some tooth-healthy tips for a summer barbecue that will leave your belly satisfied and your teeth intact?
Appetizers: Starting with appetizers, mind the chips. Tortilla chips can get lodged beneath your gums, potentially causing an abscess. Potato chips can stick to your teeth and invite decay-causing bacteria. How about a cheese or veggie platter instead? Cheese keeps tooth enamel strong, and raw vegetables will scrub your teeth clean.
Main course: When it comes to meat with bones, like barbecued ribs or chicken drumsticks, bite carefully. Don't chew on the bones. Be especially cautious if you have any large fillings or porcelain veneers.
Beverages: Avoid soda and lemonade. The dangerous duo of acid plus sugar in these drinks is the ideal formula for tooth decay. Water is the best choice for staying hydrated. Plus, it washes away debris in your mouth and helps neutralize the acid from food.
After the meal: Need a toothpick? Watch out. They can act like miniature swords, piercing the gums. And wooden toothpicks might splinter, leaving an embedded fragment in your gums. So never leave home without your own supply of dental floss or flexible plastic toothpicks.
Keep summer gatherings fun by making tooth-healthy choices and avoiding dental mishaps. If you have any questions, please contact us or schedule an appointment for a consultation.