My Blog
Posts for tag: root canal
By Brooks Cosmetic & Family Dentistry
January 22, 2019
Five indications that you may need a root canal from our McDonough, GA, office!
Suffering from a toothache? It might be a sign that you need a root canal, a procedure that is used to repair teeth that are badly decayed or infected. Led by Dr. Robert Brooks, Brooks Cosmetic & Family Dentistry, which is located in McDonough, GA, offers root canal treatments to their patients in order to save their teeth. Read below to learn the five signs that indicate you may need a root canal.
1. You have a toothache.

Tooth pain could be a sign that you need a root canal, as it is caused by an infection in the tooth. This pain may range from mild to severe. Root canal therapy will ease your pain and improve your well-being. If you think you may need root canal treatment, don't put it off—ignoring the problem will only make things worse.
2. You have a bump on your gum.

A swollen bump that forms on the gum is a sign that root canal treatment is needed. Be aware that this bump may disappear and then come back, so it's a good idea to visit your dental provider when you first discover one.
3. Your gums are swollen.

Swelling around one tooth is a sign that there is an infection present. This swelling can range from slight to pronounced, and it may be accompanied by pain. In extreme cases, the swelling may also extend into your face or neck. Other causes of gum swelling include gum disease, medications, nutritional deficiencies, and poorly fitting oral appliances.
4. Cold and hot bother you.

Do your teeth twinge when you drink or eat? Tooth sensitivity is a common problem when dealing with decaying teeth. Although some people are just naturally sensitive to hot and cold materials, prolonged sensitivity may be a sign that root canal treatment is needed.
5. You have a discolored tooth.

Tobacco use, poor oral hygiene, prescription drugs, and pigments from dark-colored drinks and foods can all cause stains on your teeth. However, one darkened tooth may be a sign that a root canal is needed.
Concerned? Give us a call!

If you think you may need a root canal, call Brooks Cosmetic & Family Dentistry at (678) 583-0330 today to schedule an appointment in McDonough, GA. We will help you get rid of that toothache once and for all!
By Brooks Cosmetic & Family Dentistry
June 05, 2018
Though it tends to have a bad reputation, a root canal can truly benefit your smile by repairing a heavily damaged or decayed tooth and
allowing you to avoid a tooth extraction. Understanding how a root canal works and the warning signs you may need one can help you restore your tooth. Find out more about root canal therapy and the signs you may need it with Dr. Robert Brooks at Brooks Cosmetic & Family Dentistry in McDonough, GA.
What is a root canal?
A root canal is a dental procedure which treats a tooth with severe damage or decay. Teeth are actually hollow, with soft tissues and nerves inside of it. When decay or damage affects the tooth on its hard, outer layers, a dental filling can repair it by removing the decayed portion of the tooth and replacing it with filling materials. However, when the tooth's inner pulp chamber becomes damaged or infected, your dentist must clean it out, removing the soft tissues and filling the entire tooth and its roots with a filling material.
What can I expect during a root canal?
Your dentist will begin your procedure by numbing the area of the tooth to ensure you feel no pain or discomfort during your root canal. Then, a small hole is made in the top, or crown, of the tooth allowing your dentist access to the tooth's inner, infected soft tissues. Your dentist will then remove the tissue and scrub the inside of the tooth to ensure that no infected tissues remain behind. After thoroughly cleaning the inside of the tooth using specialized tools, composite resin fills the tooth. A dental crown is usually suggested after a root canal to fit over the tooth and protect it against daily use and to avoid further damage.
Signs You May Need a Root Canal
The most obvious sign of needing a root canal is a toothache. Though this indicates a cavity in its later stages, many people are not aware of the earlier, less obvious symptoms which can point to having a cavity. Some of those symptoms include:
unexplained bad breath
a brown dot or spot on your tooth
sensitivity to hot and cold
a visible hole in the tooth
pain while biting
general tooth sensitivity
Root Canal Therapy in McDonough, GA
For more information on root canals or when you may need one, please contact Dr. Brooks at Brooks Cosmetic & Family Dentistry in McDonough, GA. Call (678) 583-0330 to schedule your appointment today!
By Brooks Cosmetic & Family Dentistry
February 03, 2018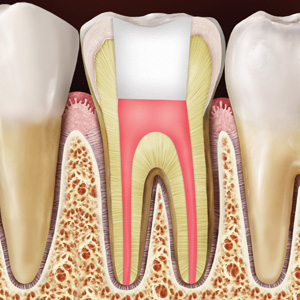 One of the most effective techniques for saving decayed or injured teeth is the root canal treatment. Yet when many people hear they need it, they become nervous at the prospect.
Much of this stems from a common misunderstanding that undergoing a root canal is painful. It's not — today's anesthetics are quite effective in numbing pain during a procedure, and mild pain relievers like ibuprofen are usually sufficient to manage any discomfort afterwards.
In fact, a root canal treatment relieves pain caused by decay within a tooth. As decay progresses, it can enter the interior known as the pulp, which contains bundles of nerves and blood vessels. It attacks these nerves causing pain and infection. If the infection progresses through passageways known as root canals that are in the roots of the tooth, the pain can intensify. More important, the tooth is in danger of loss as the root and connective tissues that hold the tooth in place are injured from the spreading infection.
During a root canal treatment, we access the pulp by drilling a small access hole, usually in the biting surface or in the rear of a front tooth. Once we enter the pulp chamber we remove all the contaminated tissue. Once thoroughly cleansed, we fill the empty chamber and canals with a special filling (usually gutta percha) to prevent future infection. The access hole is then sealed and at a subsequent visit we strongly recommend placing a permanent crown to provide further protection from damage to the tooth.
Root canal treatments are quite common. All general dentists have been trained in endodontic treatment and can perform most types of procedures. More difficult cases (like a complex root canal network that may be hard to access) may require the services of an endodontist, a specialist in root canals. Endodontists use advanced techniques and specialized microscopic equipment to treat complicated situations.
It's actually good news if we recommend you undergo a root canal treatment — it means your tooth has a good chance of survival once it's disinfected and the decay is removed. But don't delay: the sooner we can treat your tooth, the better your chances of a healthy outcome.
If you would like more information on root canal treatment, please contact us or schedule an appointment for a consultation. You can also learn more about this topic by reading the Dear Doctor magazine article "Common Concerns about Root Canal Treatment."